TOP 10 TIPS FOR DOWNSIZING
By lucmin on 9th March 2017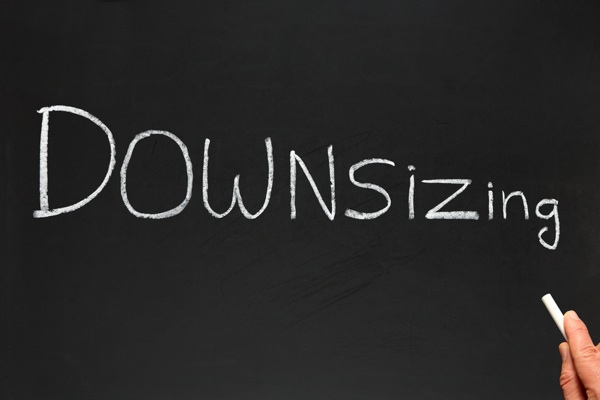 Whether you're an empty nester moving from a house into an apartment, or a renter trading in a two-bedroom for a studio, you'll have to say goodbye to some of your stuff. Stressed out by the prospect? Don't be, here are 10 tips designed to make downsizing easier!
Write a list of all the items you love and can't live without; it will help you to get rid of the items that didn't make the list. By keeping all of the items you cannot live without it makes saying goodbye to others a lot easier!
Start thinning out your belongings at least three months before the move. Take some time each day, or one morning each week, to go through that jammed coat closet or overflowing filing cabinet. Paper is the real killer so tackle it one box at a time. The same goes for photos, which require a lot of attention.
Get a feel for the size of your new rooms by comparing them to rooms of similar dimensions in your present home. For instance, your living-room-to-be might be roughly the same size as your current bedroom. You may think you can squeeze in two sofas, but this kind of reality check could help you realise that only one will fit comfortably.
Focus on areas with items that don't have as much sentimental value. Take the kitchen, for example; most people don't need 10 mixing bowls and won't get teary-eyed over losing a second spatula. If you're downsizing from a house to an apartment, target the garage. The lawn mower and ladders – you won't need any of them.
Don't throw anything in the bin! Recycle, reuse, sell and donate instead.
Label three bins To Keep, To Sell and Charity (bins should be manageable when full). For the average downsize, keep only one-third to one-half of your belongings.
Get an objective opinion. If you can't decide whether to keep or kiss that dusty '70s-era sewing machine goodbye, It's good to have someone who'll help you see clearly! It might just be the kick you need.
When selling your goods, try an auction for high-end items. Then look for reputable antique and second-hand dealers. Often, they can buy all of your items or put you in touch with booksellers and other specialty dealers. If you can't sell an item, donate it to a shelter.
Use floor plans to prearrange your furniture before the move. This is another useful reality check. To start, draw plans if you don't have any, and sketch in a furniture layout. Then look at the plans realistically; if you've crammed in side tables, armoires and chairs, you need get rid of more items. Don't wait until after you move to contend with furniture you'll just end up tripping over.
Once you get to the packing stage, use a colour-coded system to organise all of your boxes. Choose a colour for each room and mark the boxes destined for that room with a coordinating colour sticker. You can also do the same thing numerically; for example, if room No. 1 is the kitchen, then all boxes marked No. 1 will go there. A simple and efficient organizing idea to make the move that much easier!
For more of our property related blogs please see- http://move.uk.net/blog/
Why not like us on Facebook for more tips- https://www.facebook.com/moveuk/
Back to all blog posts