Tipped to win?
By lucmin on 24th June 2017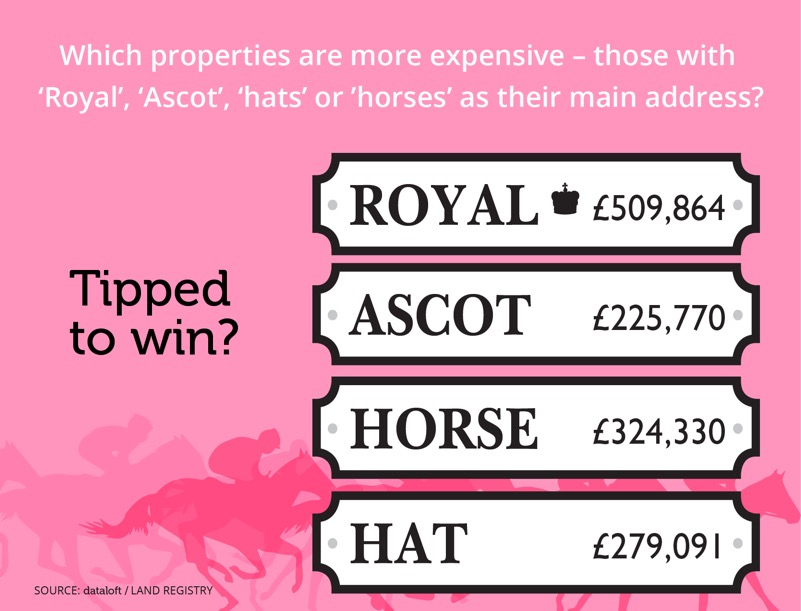 It's been a sweltering start to Royal Ascot, Britain's most valuable race meeting with prize money for Ascot Racing week this year, £6.85 million. The Gold Cup, run during Ladies Day, is the biggest draw, the winner set to receive £375,000 prize money. That's 70% more than the current price of an average home in the UK (£220,094). In a quirky look at house prices, which properties are more expensive – those with 'Royal', 'Ascot', 'Hats' or 'Horses' as their main address?
As you may expect, 'Royal' sales thunder ahead to the winning post with average prices over twice that of the UK average at close to £510,000. One in four properties sold year to date have been in London, including two for over £14 million each, with Kent a second hotspot. 'Horse' is riding clear in second place, selling for just over £325,000 an average premium of 65% compared to an average UK, property, while those with 'Hat' were placed a close third.
So far in 2017 the Land Registry have recorded details of over 215,000 property sales, of these just 473 included the word 'Hat' and 172 'Horse'. 167 included the word 'Royal', while just 51 included 'Ascot' in the main line of their address – but if you were placing a bet on price where would you put your money?
Although the most niche of names, 'Ascot' comes in last on prices. The most expensive 'Ascot' sale to date in 2017 was £795,000 in Somerset, but the average price was just £215,032. While 'royal' wins by a mile in property price terms. As per recent elections, the race was a gripping battle, Big Orange beating last year's victor Order of St George by a short head.
Back to all blog posts