Tenant Charges Part 2
By lucmin on 21st May 2020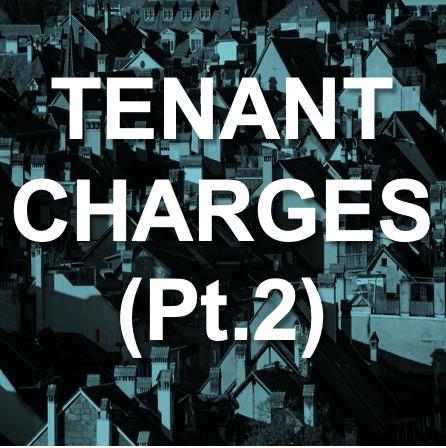 Letting agents are no longer allowed to charge a fee to process a tenant's application to rent. But this does not mean that an agent cannot ask for certain monies, so here's our brief guide for tenants (Landlords listen up too!). Part 2 – Post-Agreement charges.
Early Termination
Ending a tenancy prior to its scheduled end date falls into the realms of breach of contract. As such, the costs, which can include damages and compensation as well as legal costs, can be quite high and are not currently capped by law. So its best to avoid these by sticking to your agreed tenancy period. If you have been a great tenant and have a good relationship with your landlord/agent and also give as much notice as possible, then you are more likely to be able to come to a reasonable arrangement with the landlord with minimal expense.
Default Fees
Landlords and letting agents are allowed to charge a relatively small default fee in respect of a late rental payment, but only when this has been written into the tenancy agreement and the rent has been outstanding for at least 14 days. The maximum amount chargeable is effectively interest on the outstanding amount and can be no more than 3% above the Bank of England's annual base rate for each day the rent has been outstanding. So, for example, if a £1300-a-month rent was one month overdue, then the maximum current default charge could be no more than about £4.
Additional Charges
Should anything need repairing or replacing as a result of fault by the tenant, eg fitting new locks or replacing missing keys, then these charges should, by law under the Tenant Fee Act 2019, be "reasonable". So if you feel you are being overcharged for something, ask around for similar quotes and compare this to the proof of purchase receipt from the landlord or their agent.
Back to all blog posts