Tenant Charges Part 1
By lucmin on 19th May 2020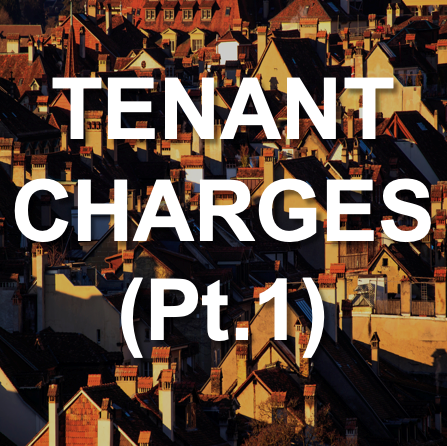 Letting agents are no longer allowed to charge a fee to process a tenant's application to rent. But this does not mean that an agent cannot ask for certain monies, so here's Part One of our brief guide for tenants. (Landlords listen up too!)
A holding or reservation deposit.
Competition for rental property is high and sometimes, in order to prove that you are a serious contender, a letting agent might ask you for a holding deposit. Legally, this can now be for no more than one week's rent, but it does reserve the property in your name (although not legally binding) whilst the paperwork is concluded – usually only a few days. It's good to know that you have secured your new home and this deposit is fully refundable should the deal not go through.
Tenancy Deposit
The tenancy deposit covers any damage to the property and is returnable to you at the end of the tenancy, subject to the property being returned in reasonable condition. Regulations prevent letting agents or landlords charging more than five weeks' rent where the annual rent is less than £50,000, or six weeks' rent where the annual rent is £50,000 or above. This money must be held in an approved Client Money Protection account.
Utilities
Certain bills can sometimes be included in your rent, so it's worth doing some research beforehand to ensure that the amount included is reasonable and not inflated. 
Changes to Tenancy agreements
Some agents used to charge extortionate rates to change minor wording in a tenancy agreement. The law now states that this must be limited to a maximum of £50, unless a 'reasonable" higher cost is actually incurred. Again, it's always worth checking how "reasonable" a charge is. This is not a get out of jail free card for landlords, but a protection for tenants.
Back to all blog posts