The rise of the first-time buyer – Is this the return of generation buy?
By lucmin on 9th May 2017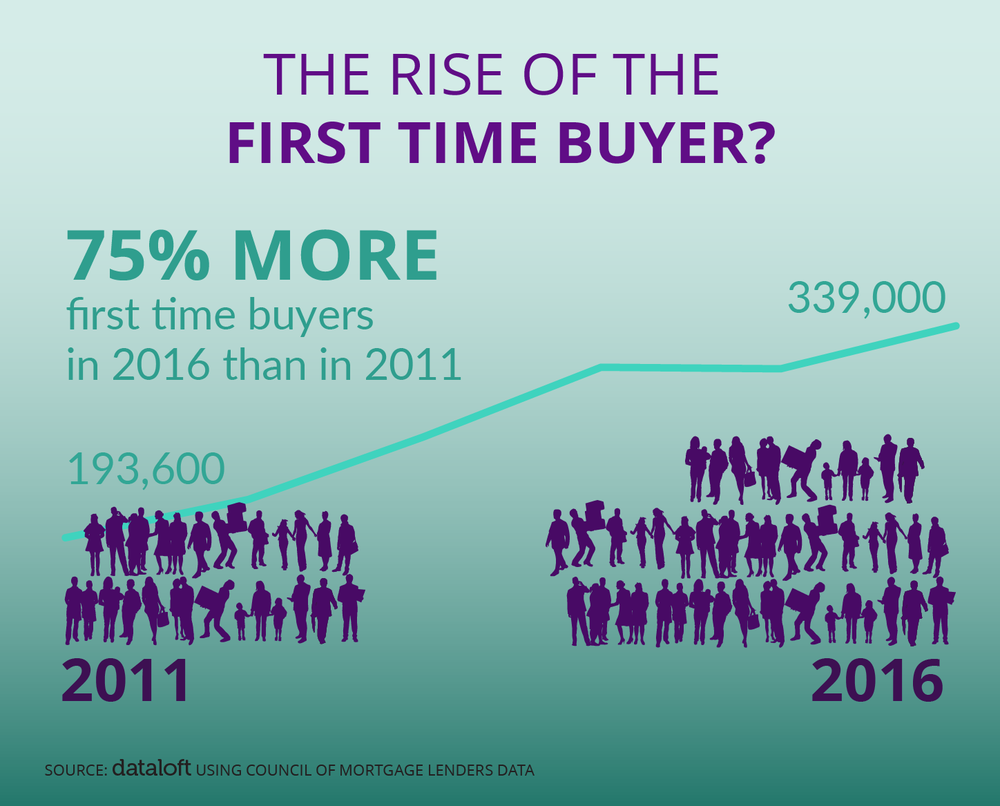 There are more first-time buyers (FTBS) finding a way to get a foot on the property ladder than at any time since the global financial crisis in 2009. Since 2011, the number of loans to this group has risen by over 75% and, in the last year alone, over 339,000 loans were issued to FTBS, according to the council of mortgage lenders. In 2016, 42% of all mortgage loans issued for house purchase (e.g. not including re-mortgaging), were FTBS, up from 34% in 2011 and 30% in 2007- before the global financial crisis put the squeeze on borrowing across the board.
Government policies aimed at helping first time buyers have no doubt helped to boost numbers, as have persistently low interest rates and rising employment.
Despite government support however, these young (and not so young) buyers are still having to find less-traditional ways to raise their share of the equity. The latest English Housing Survey estimates that 29% of first time buyers had help towards their deposits from family and friends – the so called 'Bank of Mum and Dad' has grown in recent years.
Another way to spread the burden is by extending the period of the loan and 40% of first time buyers secured their property with an initial mortgage term of over 30 years. With the average age of first time buyers at 32, many of these home owners will be paying off mortgage debt well into their 60s – which could impede their ability to help their own children at some date in the future, if they are still paying off debt of their own.
The average price paid by a first time buyer for a homes in England in January 2017 was £196,459 according to the Land Registry. This is 6.2% higher than a year earlier. Those hoping to get their first foot on the ladder may need to act quickly in some areas as average house prices rise faster than they can accumulate a deposit.
For more of our property related blogs please see- http://move.uk.net/blog/
Why not like us on Facebook for more tips- https://www.facebook.com/moveuk/
Back to all blog posts