Record Low Mortgage Rates
By lucmin on 9th May 2017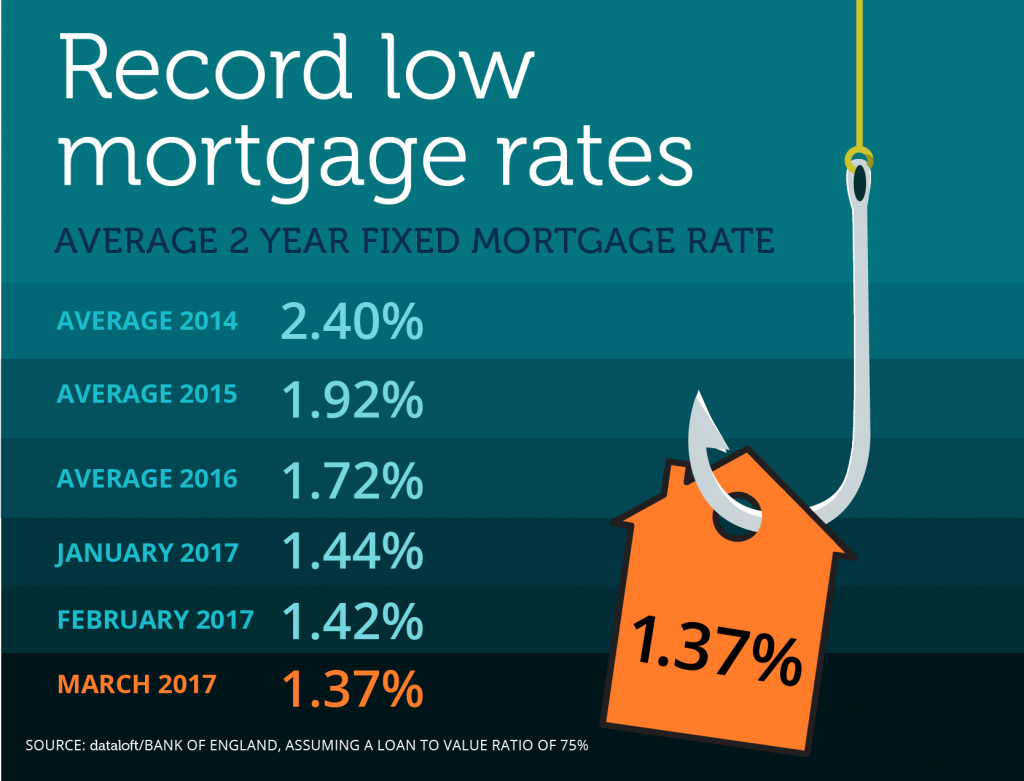 The Yorkshire Building Society has recently launched a mortgage rate of 0.89% for 2 years, reported to be Britain's lowest ever rate. This deal is not fixed and is restricted to house buyers borrowing no more than 65% of the property's value, mortgage rates.
Low mortgage rates (along with Government housing schemes) are helping to attract first time buyers into the market. The Council of Mortgage Lenders report that there were 342,000 first time buyers in the last 12 months, the highest level for nine years.
Headline grabbing rates are sometimes offered by lenders over a short time frame to help drive higher lending volumes but the trend is true across the market. Average mortgage rates have fallen over recent years and even more since the start of the year. In 2014, the average mortgage rate for 2 year fixed mortgages was 2.4%. By March 2017, the average rate had fallen to 1.37%. For buyers looking to fix for longer, the average rate for a 5 year fixed deal is now 2.15%, down from 3.52% in 2014. These rates assume a loan to value ratio of 75%.
While inflation looks set to overshoot its target for some months to come, the slowdown in wage growth and squeeze in consumer spending means that a rise in interest rates looks unlikely to occur in the short term. Could this mean that we have not yet seen the lowest ever mortgage rate?
For more of our property related blogs please see- http://move.uk.net/blog/
Why not like us on Facebook for more tips- https://www.facebook.com/moveuk/
Back to all blog posts