Party Pledge- Property
By lucmin on 30th May 2017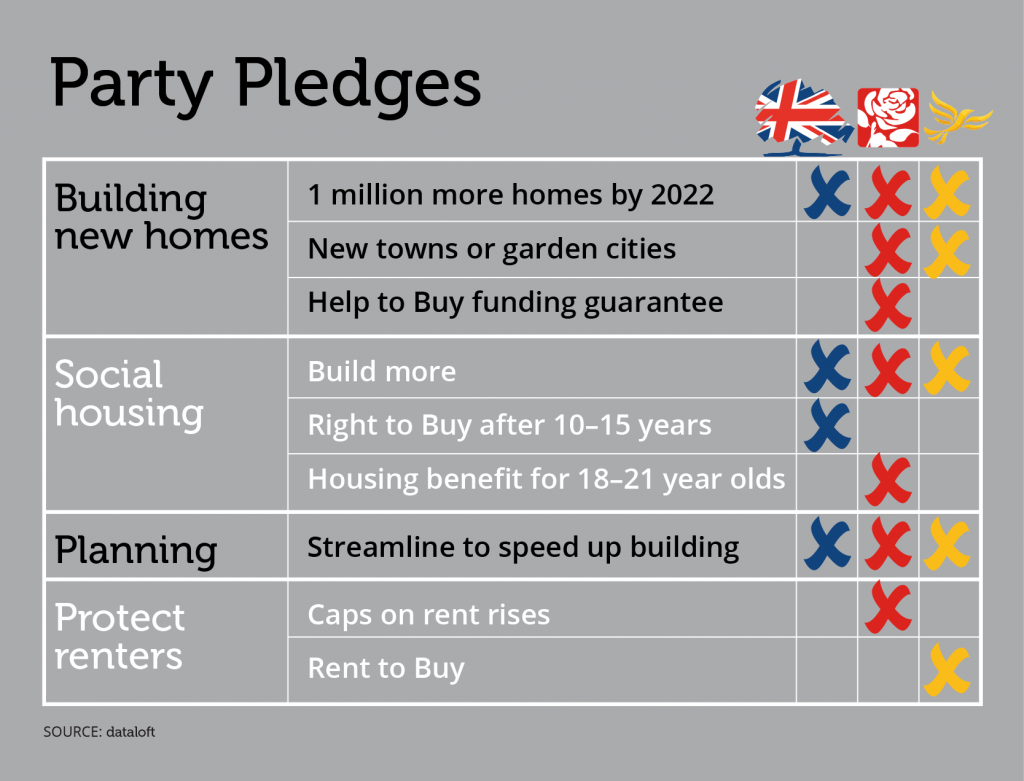 All three main political parties are pledge to build over 1 million new homes by the end of the next parliament (2022) – that's at least 200,000 new homes per year. The Liberal Democrats aim for 300,000 pa. In 2016/2017 147,900 were completed (DCLG) so it's a tall order. Labour would guarantee funding for the Help to Buy scheme until 2027 and both Labour and Liberal Democrats would encourage some form of new town, garden city or urban extension – which appeared in the Conservative White Paper.
All three promise to encourage the building of affordable social housing. Just 18% of new homes completed in 2016/17 were social housing, compared to one in four in 2012. Labour would also reintroduce Housing Benefit for those aged between 18 and 21.
To streamline planning, Labour would create a Department of Housing, while the Liberal Democrats would lengthen the life of a Local Plan to 15 years. The Conservatives deliver the reforms in their Housing White Paper, including freeing up land and speeding up the planning process.
Labour and the Liberal Democrats pledge to help the 20% of households who privately rent by improving tenant's rights, securing three year tenancies as the norm and Labour would introduce inflation caps on rent rises. The Liberal Democrats would promote their rent to buy model of home ownership.
For more of our property related blogs please see- https://move.uk.net/blog/
Why not like us on Facebook for more tips- https://www.facebook.com/moveuk/
Back to all blog posts