Move by Christmas
By lucmin on 22nd October 2019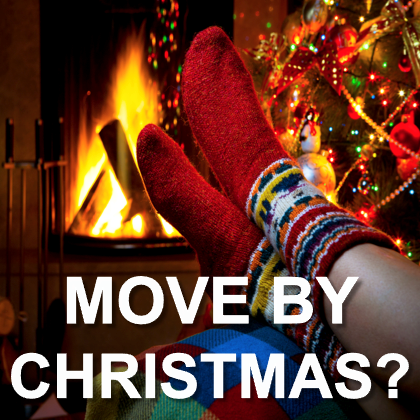 With Christmas already in sight, if you're serious about selling it would be worth your while to do something about it now, rather than waiting until the Spring.
For many, Christmas is a time for home making and buyers currently thinking of moving tell us they would love to be in by mid-December – and this is by no means unrealistic.
Indeed, sellers can take advantage of this sense of buyer urgency and expect to conclude a satisfactory sale when both marketing and price combine to attract the right buyers.
Even if you don't achieve a sale this side of December we would certainly recommend that you avoid falling into the trap of waiting until the Spring to sell. If everyone did this (and many do) the sheer volume of properties flooding on to the market at the same time creates an imbalance of supply over demand and prices can weaken.
Far better to sell your property when everyone else is beginning to think about slowing down for Christmas. Some competing properties may well be removed from the market temporarily which we view as a huge mistake. Remember, for a serious buyer, Christmas is an irritation, which can be exacerbated by a reduction in choice, with a corresponding temporary increase in prices – not necessarily asking prices, but certainly the price achieved and sellers would be well advised to take full advantage of this. The number of viewings may be small, but the quality should be relatively high.
Additionally, it is well known that the highest property portal viewing numbers by far, occur over the Christmas period.
Finally, Christmas is a time when a house really does look like a home and could just tip the balance in your favour when buyers come to view.
So if you can act quickly and would like us to do likewise, please feel free to call us on 01242 257333 or 01452 597994 for an initial chat and we'll swing into action.
Back to all blog posts