Game, Set and Property Match
By lucmin on 11th July 2017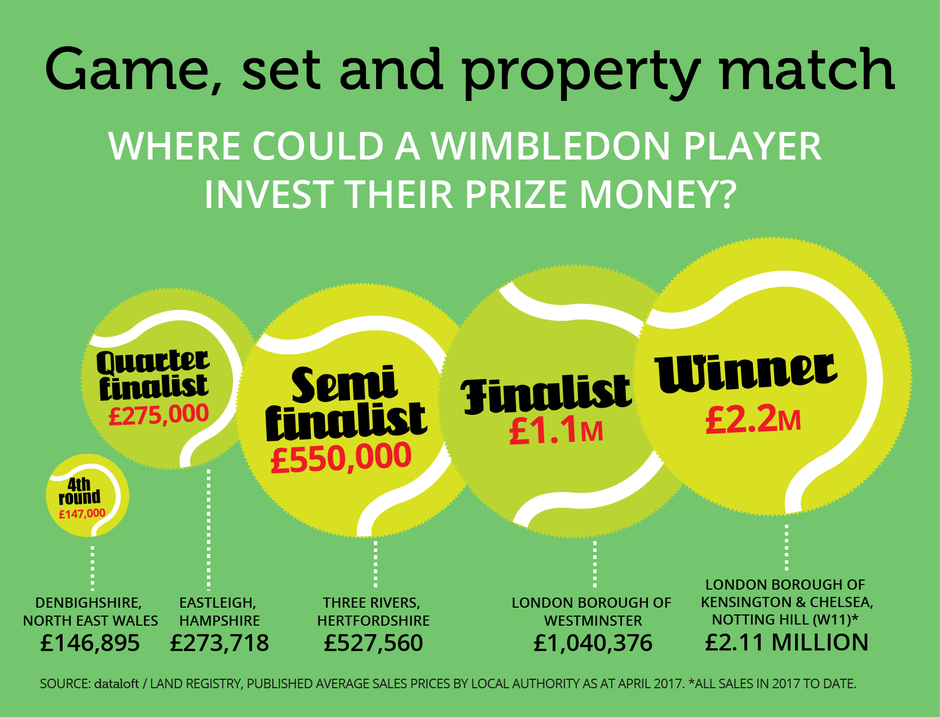 The 131st Wimbledon Tournament is in full swing. Over the next two weeks, over 1.4 million strawberries and 86,000 ice creams will be consumed, washed down with 330,000 cups of tea and coffee, 110,000 pints of beer and 320,000 glasses of Pimms.
Should they be looking to invest their winnings in residential property, the prize fund will go a long way. The runners up will both pocket £1.1 million, which, in 2016 would have been enough to choose between 98.6% of all homes sold in England and Wales. They will comfortably be able to afford an average priced property just up the road in the London Borough of Westminster.
By the time the cork pops on the 29,000th bottle of champagne, a record £31.6 million will have been awarded in prize money. The winners of the singles Championships will both be presented with £2.2 million.
Meanwhile, the singles Champions would have had choice of all but 0.3% of homes sold in England and Wales during 2016. With £2.2 million, the Wimbledon Champions will be able to choose between some of the country's most exclusive addresses. A property in fashionable Notting Hill would be within reach.
Why not like us on Facebook for more great information and blogs – https://www.facebook.com/moveuk/
Back to all blog posts