Exploring the Ideal Areas for Property Investment in Worcester
By georgemove-uk-net on 9th June 2023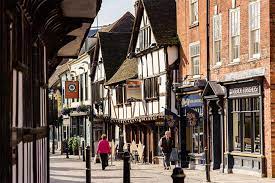 Worcester, a vibrant city located in the heart of England, offers a plethora of opportunities for property investors. Boasting a rich history, stunning architecture, and a thriving economy, Worcester has become an attractive destination for individuals seeking to invest in real estate. In this blog, we will explore some of the best areas in Worcester for property investment, taking into consideration factors such as growth potential, amenities, transportation links, and more.
St. John's: St. John's is a popular residential area in Worcester, known for its excellent schools, beautiful green spaces, and a diverse range of property options. The area benefits from its proximity to the city center while maintaining a peaceful and family-friendly atmosphere. With ongoing regeneration projects and a growing demand for housing, St. John's offers promising investment opportunities.
Diglis: Situated along the banks of the River Severn, Diglis is a highly sought-after area known for its modern riverside apartments and picturesque surroundings. This up-and-coming neighborhood offers a blend of contemporary living, waterfront views, and easy access to the city center. With ongoing developments, including the Diglis Basin Marina, investing in Diglis could yield substantial returns.
Barbourne: Barbourne, located to the north of Worcester city center, is renowned for its historic architecture, leafy streets, and tranquil atmosphere. The area features a mix of period properties and modern homes, providing a diverse range of investment options. Barbourne's proximity to Worcester University and the city center makes it particularly attractive to students and young professionals.
Arboretum: With its tree-lined streets and Victorian architecture, the Arboretum area offers a unique investment opportunity in Worcester. The neighborhood is known for its well-preserved period properties, many of which have been converted into desirable apartments. Its close proximity to the city center and Worcestershire Royal Hospital adds to its appeal.
Warndon Villages: Warndon Villages, a large suburban development located to the east of the city, is ideal for investors seeking affordable yet high-quality housing options. The area features a mix of housing types, including detached houses and modern apartments, with ample green spaces and community amenities. Warndon Villages' convenient location near major roads and Worcester Business Park makes it attractive to professionals and families alike.
Worcester presents an array of opportunities for property investors, and these are just a few of the best areas worth considering. Whether you're looking for a historic property with character, a modern riverside apartment, or a suburban family home, Worcester offers a diverse range of options to suit various investment preferences. By assessing factors such as growth potential, amenities, transportation links, and proximity to key institutions, you can make an informed decision and embark on a successful property investment journey in Worcester.
Move are leading estate agents in Worcester and have an unrivalled knowledge of the area. Our flexible and qualified team at Move work with a variety of clients, from property developers to landlords, first-time buyers, student landlords, homeowners and those looking to rent, as your dedicated agent we will work with you to get the best outcomes.
Back to all blog posts