EPCs: A Complete Guide
By lucmin on 26th January 2021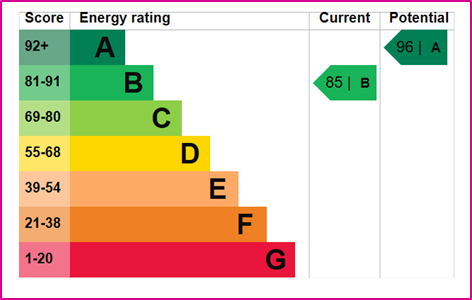 In this guide, Move Estate Agents explain exactly what an EPC is and the relevance of the same.
What does an EPC look like?
An EPC usually takes form as a graph, such as the below example.
What is an EPC?
In its simplest form, an EPC is an Energy Performance Certificate for your property. It advises the proprietor of their property's ranking in terms of energy efficiency and its potential. The certificate will often also suggest what changes can be made to the
property in order to increase its rating.
How is the EPC level obtained?
A valid EPC can only be issued via a qualified Domestic Energy Assessor and once completed, the certificate is uploaded to a public register. The certificates themselves last for a period of 10 years before expiring and a fresh one is then required.
A property's energy efficiency standard is measured from 'A' to 'G', with 'A' being the highest level of energy efficiency and 'G' being the lowest. In order to reach a determination in this respect, an assessor will look at mitigating factors including a building's walls, flooring, roof insulation and boilers.
Legislation:
The relevant legislation for the requirement of the minimum EPC grade is EPCs Domestic private rented property: minimum energy efficiency standard – landlord guidance and if it is not complied with, Landlords and agents alike can face hefty fines as a result of breaking the law.
Does my property qualify for an exemption?
There are certain property characteristics that may mean a proprietor is not required to obtain an EPC rating due to the nature of the building. Here, we have outlined them and briefly explained what these mean for you.
High-Cost Exemption: if the work required to improve the property's EPC rating (in order to comply with minimum requirement) exceeds £3,500.00, the proprietor is not required to do so.
7 Year Payback: if the cost of the recommended work cannot be justified by the amount of savings made within 7 years.
Consent Exemption: in some cases, the work required would need to be signed off by a third party in order that they can provide their consent. Occasionally, such consent cannot be obtained either as a direct result of the third party not agreeing or simply because they cannot be reached.
Wall Insulation: for some properties, it would not be suitable or appropriate for wall insulation to be inserted as it may cause structural alterations to the fabric of the building thus making it exempt.
All Improvements Made: In some cases, a homeowner may have made all of the recommended improvements, but the energy rating may still be lower than the required.
Devaluation: This is subject to a RICs evaluation however, if EPC improvements are likely to devalue your home by 5%, you may become exempt.
New Landlord: If you are a new landlord, you may be eligible for a grace period of 6 months to make the required improvements.
How do you apply for an exemption?
In order to apply for an exemption, you must provide the following information: –
1.       Full Address of the Property.
2.       Exemption Reason.
3.       Valid EPC Certificate.
4.        Any other accompanying evidence.
Upon successful completion of the application, all approved exemptions last for a maximum period of 5 years after which time, the exemption must be reapplied for.
Wider Picture
As we all know, Global Warming is a huge threat to our planet and the UK Government have introduced measures to help prevent matters from becoming worse. Statistically, UK homes are responsible for roughly 15% of greenhouse gases and by introducing a measure to maintain energy efficiency in the UK, the hope is that the amount of greenhouse gases is reduced.
How can we help?
Without a doubt, EPCs have a very important role for both the health of the planet, however, the rules can be confusing for many and time-consuming. Here at Move, whether you are a vendor or a landlord, we will guide you through EPCs and obtaining the same.
DISCLAIMER: The information provided in this article is relevant to only that of the rules and regulations in England. Different rules may apply for properties within Scotland, Wales and Ireland. The advice within this article does not constitute as legal advice.
Back to all blog posts