How to declutter your home – top tips
By lucmin on 4th April 2017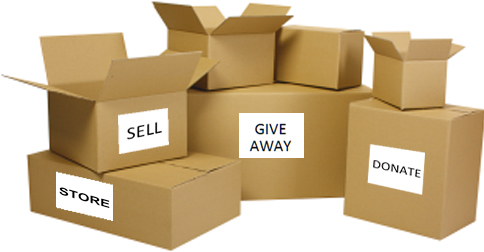 If you're selling your home, or have already sold your home, decluttering is about to play an important role in your life. Whether you're getting ready to move home, getting your home ready for a viewing or looking to attract buyers with an attractive, tidy, clean and well-maintained property, you will almost certainly need to declutter at some point. People can get quite stressed about this, but it can be quite a therapeutic and relaxing experience if approached in the right way. A clutter-free home, after all, not only clears space physically but mentally as well. A home that is allowed to breathe will also allow you to breathe more easily too.
Stay organised
This will help you to keep focused on the job at hand. It's all too easy, when you're carrying out a spring clean, to get distracted or to be unprepared for the challenge ahead. This means being armed with all the necessary cleaning equipment – cleaning products, gloves, sponges, scrapers, a dust pan and brush, etc. If you are prepared beforehand, you won't have to face a mad scramble around to find the appropriate items needed for a thorough declutter.
Sort your playlist
Everyone knows that even the most tiresome of jobs can be made better by the addition of music. And decluttering is no different. When you realise this is your time to simply be alone and reconnect with some of your favorite tunes, cleaning will not seem so daunting. Before long, you will find yourself enjoying the time you have to decompress and escape. So, whatever you do, make sure you have Spotify, iTunes or YouTube close at hand. Failing that, the good old-fashioned radio is a reliable and excellent stand-in.
Shop till you drop
OK, so it might not be that extravagant, and you will mostly be buying cleaning products, but you should also treat yourself to decorative items to adorn in your new home. Think of adding new throw pillows, wall hangings, or curtains to spruce up the room. Knowing you have these items in waiting will push you to keep going even when you are feeling defeated.
Keep a list Boring and mundane, maybe, but also hugely vital and useful. A very detailed list compartmentalised by room will help you stay focused and give you a sense of accomplishment as you begin to mark things off the list. Large, multi-coloured index cards are a good way of helping you to focus – you assign each room a coloured card and then break down your workload into small mini-lists, which will be much more manageable. Tick things off as you go, take regular breaks and give yourself plenty of time to get things done – doing things last minute is never, ever a wise move, after all.
Give yourself rewards
This might sound like a childish thing to do, but it will help to keep you motivated and focused on the task at hand. Before you even start thinking about cleaning or decluttering, give yourself a reward. This reward may look different for each person. Whether it is a glass of wine, a pedicure, a bubble bath, or a day at the spa, decide ahead of time that you will reach the goal you have set. Once you have, give yourself permission to indulge. There you go – the task of decluttering need never be daunting, painful or tiresome again. You now have the tools to make it fun, relaxing and refreshing!
For more of our property related blogs please see- http://move.uk.net/blog/
Why not like us on Facebook for more tips- https://www.facebook.com/moveuk/
Back to all blog posts