What do buyers look for in their next home?
By lucmin on 12th September 2016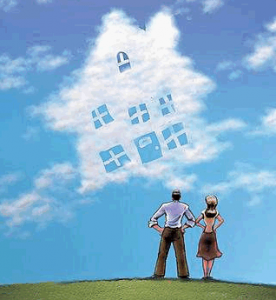 Strangely enough the colour of your front door could have an impact, everyone bangs on about kerb appeal however the front door is easily missed! White front door apparently increasing your chances of achieving a quick sale.
As a seller, it also helps if your home has four bedrooms, four front-facing windows and a front garden with a rose bush and a neatly mown lawn!
What's more, research also found that a third of Brits already have every aspect of their ideal next home in mind and mapped out before viewing. As an agent, when we sell your home we always try to appeal to as many sectors of the market as possible in order to maximise your changes of a sale.
Sellers should pay as much attention to the exterior of their home as the interior. It's the first thing would-be buyers will see, therefore the first, immediate impression of your home will be formed from what they see on the outside. As such, it's absolutely vital that your exterior doesn't put prospective buyers off.
A decent driveway and additional space to build an extension were other key considerations for those surveyed.
There are also things that would immediately put buyers off a property, including a scratched front door, bad or tatty carpets and poor paintwork. Some 45% of those surveyed said they would be put off by a single bad feature of an otherwise pristine, perfect home.
More out-there and quirky interior design choices are also likely to put would-be buyers off, with things like blue floor lights in the kitchen and an ornate fish tank built into a chimney breast liable to bring about turned-up noses, glares and frowns.
Despite this, sellers shouldn't be so worried about interior décor, two-thirds of people said they wouldn't be deterred by the décor of a home, of the opinion they can fix it themselves once they've moved in.
Many buyers might want to use a change in décor as a way of stamping their own indelible mark on their new home. Everyone loves simple DIY.
When it comes to choice of décor, 30% of respondents said they would like their next home to be decked out in a modern style, while 18% said they would prefer a more traditional look.
Although nearly half (46%) of would-be buyers said they would scrutinise closely every detail of a home before placing a deposit, a fifth said they would be less thorough.
They would be happy to not look too closely at a home as long as they get a "good vibe" from the property when they come to view it.
Some 10% of buyers are even more instinctive and knee-jerk, with a cursory look being all that is needed to help them decide whether they wish to purchase the home or not. This percentage of buyers are not interested in details.
You never know, your property might be the one that triggers something in these non-buyers to turn them into active ones!
In general, however, the above behaviour is to keep up with market changes, seek home interior tips and find out how much nearby or neighbouring houses cost.
As for the smells and scents that sellers can use to entice would-be buyers when they come to view your home, well, the age-old clichés ring true – freshly-baked bread, flowers and fresh laundry are the most appealing fragrances.
In many cases, buyers will have a clear idea of what they're looking for and it won't take much to knock them off course or get them turning their nose up at what they see.
They're likely to be eagle-eyed about every aspect of your home, so it's vital that you give them no reason to despair.
Ensuring that your home is clean, tidy, homely, well-maintained and pleasing on the eye will massively increase your chances of selling.
Back to all blog posts