Airbnb problem
By lucmin on 30th March 2020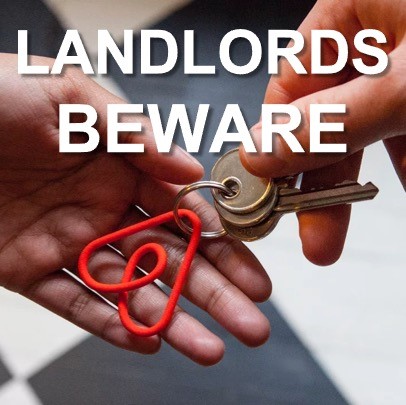 Most landlords aim is to maximise their return on investment with minimal hands-on involvement. Security and a predictable income from well-referenced and reliable tenants are usually high on the agenda.
Running a guest house is a different matter, yet some tenants are using temporary accommodation platforms such as Airbnb to profit from a property at their landlord's expense. This surreptitious sub-letting may not be illegal, but it is almost certainly in breach of a good tenancy agreement designed to prevent such activities.
We heard of one example where over 300 people had stayed in under a year, mostly for one to three nights, in a tenanted London flat. The landlord was blissfully unaware and the official tenant, who had not spent one night in the flat, had pocketed a significant profit from the landlord's investment.
Many landlords are unlikely to be aware that their property is being used in this way. Indeed, some many not even care, as long as the rent regularly rolls in on time. However, as responsible letting and managing agents, we go to great lengths to ensure that our clients' investment does not become a guest house, or worse (there have been examples of temporary brothels being created in this way).
Not only does such sub-letting substantial increase wear and tear on the property, but it is almost certain that it would also breach any mortgage conditions, as well as potentially invalidating buiding/contents/third party liability insurance. Additionally, if a temporary "guest" decided to take up residence, it would be extremely difficult to evict them, as the "tenant" does not have any contractual agreement with the landlord.
We enjoy a great relationship with both our landlords and tenants, and, as our landlord clients' "investment manager", we are very protective of the properties in our care, so we keep a close eye on how they are being used. It's what good management is all about!
Back to all blog posts