Additional Home Surcharge Now 26% Of All SDLT Receipts
By lucmin on 19th September 2017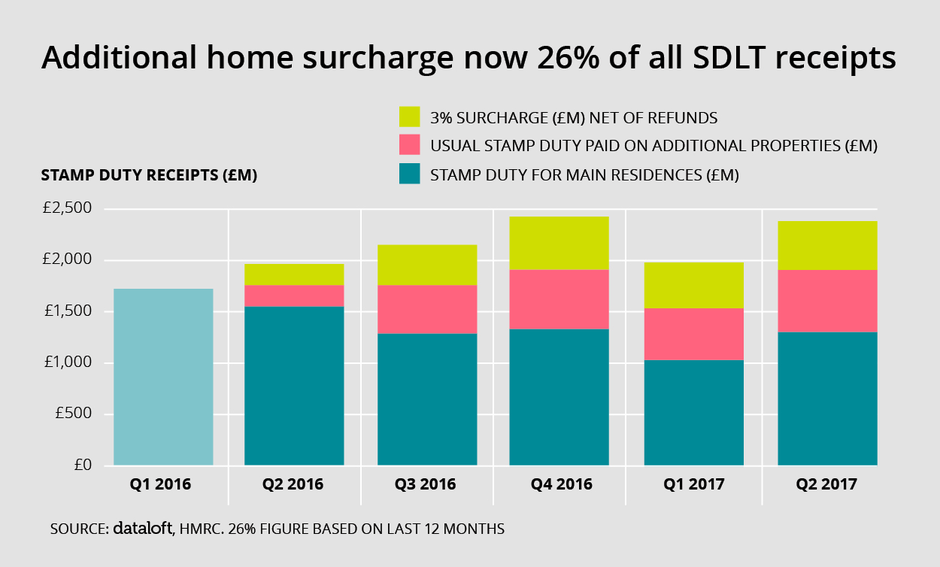 Additional home purchases incurring the extra 3% stamp duty surcharge accounted for 22% of all residential transactions in the past 12 months. The proportion has remained fairly constant since Q3 2016.
However, transaction levels in the last 12 months are lower than in the previous 12 months. While Brexit, the election economic uncertainty and changes to buy to let taxation have all taken their toll, it is widely recognised that the higher stamp duty rates at the top end of the market along with the additional stamp duty for second home buyers and investors have also deterred buyers. Whether stamp duty receipts have actually been boosted or whether receipts would have been just as high without the changes and subsequent drop in transactions, remains unclear.
In total, the stamp duty surcharge on these additional purchases netted the Government £1.8 billion, after refunds. (Second homeowners can get a refund if they sell their former home within three years.) The surcharge accounted for 26% of all receipts – although the question remains, how much more might have been raised if SDLT rates had not depressed sales volumes.
Overall, stamp duty receipts, net of refunds, rose 16.3% in the second quarter of 2017 which counteracts the 16.4% fall seen in Q1. Receipts are also much higher than in Q2 2016 – unsurprising given the steep fall in transactions in Q2 2016 following the stamp duty surcharge deadline in April 2016.
Back to all blog posts